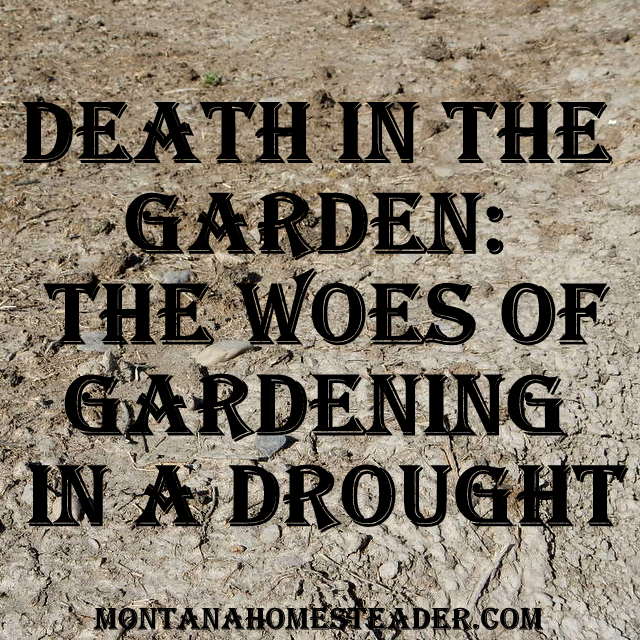 This post may contain
affiliate links
. I receive a small commission when a product is purchased through these links, at no additional charge to you. Thank you for your support! 
I had a rather sad, depressing week. There has been death in the garden plot this week. After nurturing my seedlings in the greenhouse for close to two months, I planted some of them out in the garden last weekend. I planted onions, broccoli, kale, tomatillos and cucumbers. They were the plants that were starting to struggle a bit in pots and needed to be planted out. We were well after our last frost date so it was high time they get planted out.
The problem? We are having a drought. Seriously, I feel like it is the Dust Bowl all over again out here. Normally this time of year we should be having a lot of rain and temperatures in the 50's and 60's. Instead, we're having warm sunny days creeping up to the 80's. When I planted this first round of seedlings out last week, the weather forecast was calling for a cloudy week with potential rain showers. Well, it rained but there were one or two rain showers that lasted about ten minutes tops. It did little to quench the thirst of our parched soil. Most of our land is in pasture and the grasses that came up this spring are dead and brown already and it is early June!
I've been having to hand water our garden everyday, sometimes twice a day. It takes me about an hour and a half each time. An hour and a half!! If I do it twice in one day, that is three hours of my time watering. We tried running some sprinklers but they were too powerful and ran our well dry temporarily. That was scary! We have a few soaker hoses but not enough to run through the whole garden at this point. So I hand water. But plants are still dying. Seeds are not sprouting. It is just devastating.
I cried when I saw that half of my cucumber transplants had died. Stems bent over, leaves shrivled up and crunchy. I was so exhausted by the intense watering schedule on top of everything else I need to do each day. I just couldn't keep up with watering the plants as much as they needed it. I skipped one night of watering, figuring they had been watered that morning. But alas, the next morning over half were too far gone to be revived. And I cried.
Had I not nurtured these seedlings everyday for the last two months I probably wouldn't have been quite so upset. But there's a different connection to your plants when you raise them from seed. When you plant that seed in the soil, water it day in and day out, watch the seedling sprout and grow into a healthy plant. It is just devastating to see those plants die just a few days after being transplanted out into the garden. I now refer to the cucumber beds as "The cucumber cemetary." I kicked into survival mode for the rest of my plants, fighting fiercely against this drought and doing whatever I can to salvage what is planted out there.
I've never had to mulch my garden beds before this year. We started searching for straw to buy but everywhere we called was sold out until the fall. We even put up an ad on Craigslist, but we became one in a mass of other postings of people looking for straw. We finally found a place an hour away so we made the trek. We were able to buy a 1 ton straw bale for $30, which I thought was a pretty good price considering how scarce they are! The same night we bought the straw, we went out to the garden and mulched every single plant out there. Since then, there hasn't been any more plant death.
There has been a lack of seed germinating and sprouting due to the dry conditions. I've tried keeping the seed beds moist, but again it is an overwhelming task. The soil is just SO parched. Add to that the fact that the wind just whips through here most days, drying the soil out even more. I would soak the seed beds with water, only to look at them an hour later and the soil was dried out already. Unbelievable!! The seeds I planted that never sprouted: carrots, spinach, bok choy, lettuce, and kohlrabi. These barren beds in the garden make me so sad.
In mid May, I planted a 2 foot by 120 foot bed of peas. That is a lot of peas! Do you know how many sprouted? Not even ten. Just devastating. Peas were always so easy to grow in my past gardens and my first seeds in the ground each spring. The peas that did sprout are still so small, struggling to grow even though I try to water them everyday. They dry out just as fast as I can water them.
On top of having to water the garden, I still have seedlings in the greenhouse I have to water everyday. Plus eight new fruit trees in our orchard that need to be watered. In addition to that, I also have my perennial flower and herb gardens in front of the house that need to be watered every few days because it is dry. Some days it feels like all I get done is watering, just trying to help these plants survive this drought. With so much time and effort having to go into watering, I feel like I have little time and energy left for anything else.
Earlier this spring when we were getting our new 7000 square foot garden plot staked out and fenced, I thought the most challenging part of managing a garden this size would be weed management. We actually have few weeds coming up because it is so dry out there. I guess if I had to find a positive in gardening in a drought it would be not having too many weeds to pull!
My new gardening motto is "cut your losses, save what you have." I've all but given up on having to hand water the seed beds. I focus my energies on watering the plants that are out there. We're heading into town today to buy more drip irrigation for watering the transplants. This should make a huge difference in the amount of time I have to hand water. Maybe THEN I'll have a little time freed up to reseed some garden beds and keep them watered so they actually germinate and sprout this time!
Do you have any experience gardening in a drought? Do you have any tips to share?
This post shared on: Homestead Barn Hop, The HomeAcre Hop, Green Thumb Thursday,